Pneumatech AD-100 115V or 230V Noncycling Refrigerated Air Dryer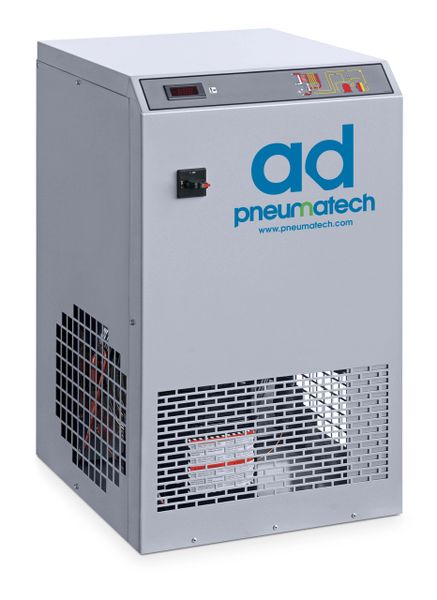 Pneumatech AD-100 115V or 230V Noncycling Refrigerated Air Dryer
Pneumatech is proud to introduce this new range of reliable and innovative refrigerated air dryers. These dryers are a cost effective solution to remove all traces of condensation and the resultant corrosion from your compressed air system. They are tested to the stringent CAGI ADF-100 standards so you can be assured that you will get a dryer that performs for years to come.

Capacity at 39±2ºF1

100 scfm


In/Out Connection Size

1.5 in NPT (F)


Drains Connection

10 mm


Pressure Drop 

2.18 psid


Max. Working Pressure

200 psig


Refrigerant Type

R-404A


Standard Electric Power Supply

115V-1Ph-60Hz or 230V-1Ph-60Hz


Max. Ambient Temperature

115 ºF
46 ºC


Max. Inlet Pressure

203 psig
14 bar


Max. Inlet Temperature

131 ºF
55 ºC


Dimensions

26 x 20 x 38 in


Approx. Shipping Weight

140 lbs


Part Number

4102 0006 94


1 Capacity and kW ratings are at full load at CAGI ADF-100 standard conditions of 100ºF (38ºC) ambient, 100ºF (38ºC) inlet and 100 psig (7 bar) delivering a pressure dew point of 39ºF (3.9ºC) ±2ºF (1.1ºC).

Eliminates condensation on outside of pipes
More efficient-lowers refrigeration kW at full load
Precise dew point control across a wide range of flows
No loss of expensive compressed air during drain discharge
High performance & reliability in a compact design
Reduces components
Reduces pressure drop
Minimal ozone depletion potential - meets Montreal Protocol
Units suitable for all municipalities and Canada
Ease of Installation
Can prevent unauthorized start-up as part of lockout/tagout routine
Minimal maintenance and long intervals between service calls
Easy access to key components



Integrated Air-to-Air heat exchanger on all models
Hot Gas Bypass valve on even the smallest units in the range
No-air-loss electronic drain on all models
Aluminum HX w/ integrated water separator (AD-75 to 250) Stainless steel plate & frame HX (AD-10 to 50)
Environmentally safe refrigerants - R-134a (AD -10 to 50) & R-404a (AD-75 to 250)
UL and cUL listed
Inlet and outlet connections on the back of each unit
Lockable on/off switch
Reliable components
Service friendly design