Pneumatech ADA-50 High Temperature Refrigerated Air Dryer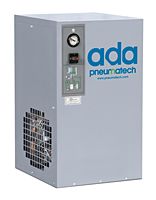 Pneumatech ADA-50 High Temperature Refrigerated Air Dryer
Pneumatech High Temperature Refrigerated Air Dryers come with the following features
- Integrated Air Cooled After Cooler
- Refrigerated Dryer
- Centrifugal Moisture Separator
- Electronic adjustable drain Valve
- On/Off Switch
- Power On Light
- High-Temp Light
- Drain Test Button
- Drain Adjustment knobs
Capacity at 39ºF PDP

40 scfm


Capacity at 50ºF PDP

50 scfm


Operating kW

1.0 kW


Comp H.P.

0.08 hp


In/Out Connection Size

0.50 in NPT


Refrigerant Type

R-404A


Dimensions

18 x 28 x 32 in


Max. Working Pressure

200 psig


Inlet Temperature

180 ºF


Ambient Temperature

95 ºF


Shipping Weight

151 lbs


Standard Electric Power Supply

115v/1/60


Part Number

4102 0019 11

Eliminates wafer, oil and dirt from air system.
Prevents damage to pneumatic tools and cylinders, adding to their lifetime use.
Increases profitability and productivity.
Virtually maintenance free.



Patented design, with built-in after cooler/condenser with cycling fan.
Automatic drain with solid slate, programmable timer and manual override. (Particle strainer included)
Easy installation power cord with three-prong plug supplied.
Unit shipped with a full refrigerant charge and oil.
cULus Industrial Control Panel w/ refrigerant suction gauge
Durable powder-coated cabinet



Capacity and kW ratings are at full load at CAGI ADF-100 standard conditions of 100ºF ambient and 100 psig (7 bar). Compressed air inlet temperature is rated at the extreme condition of 180ºF (82ºC).